Like most girls, I too have had my fair share of bad hair days. I used to have really bushy wavy hair. At times, I look like a lion and other days, a walking bush. Plus, the problem with curls is that you tend to get tangles and split ends in your hair. The only good thing is that it makes my hair look really thick. However, once I entered University, I couldn't stand how messy and unmanageable my hair was anymore. It was starting to become a pain to style and I hated looking really sloppy. So I decided to rebond my hair. It had been years since I rebond. The last being in my primary school days. I rebonded my hair often back then (like 6 times). I stopped when I enter secondary school. And my curls only started to grow out towards the end of Sec 3. My dad can't stand my messy hair either and happily sponsored my rebonding. Anyway, I did a soft rebond and love how its straight but yet a little wavy over time and it's not flat-looking at all. Right now I'm loving my light ash brown straight hair. But of course, I have to make it a habit to practice simple hair care tips to maintain my hair. Anyway, let's begin.
First off, the problem most people have is frizzy hair. So do invest in a good hair care treatment oil. I quite like
Sunsilk
because, well, it works and smells good. They have a wide range of hair care products catering to different hair problems such as so you can choose whichever suits you best. I'm usually use the hair care products from the
Smooth & Manageable series by Yuko
.
However, recently, I'm using Pantene due to a sale. Pantene's Total Damage Care hair set consists of their total Damage care shampoo, conditioner as well as their hair mask. And this whole set is only about $10 at a local provision shop I went to. It's this fairly huge shop that caters more to household items rather than food and drinks. Most of the items are sold in bundles or packs at super cheap price. I bought a bunch of stuff every time I visit the shop. My favourite item being this awesome 2-way mirror. One side is magnified while the other is plain view. It's super useful and convenient for when applying makeup. Best part, it only cost me $2!! Of course, you can still find this hair care set easily at your department stores like CK, NTUC Fairprice, Giant etc.
Anyway, there are super clear and simple instructions on what to use first, how long to apply and the benefits of the various applications.But, I'll just simplify things for you guys. First, wash your hair with shampoo (okay like duh), then, apply conditioner and leave on for about 3-5mins. After rinsing it off, towel dry a bit before you start applying the hair mask. It's best applied section by section or you could just comb it through your hair. Let it be for at least 10 mins. (Meanwhile, you can do other things in the bathroom like maybe floss your teeth of I heard that covering your hair with a hot towel helps to maximise the effect but frankly speaking, who has time for that? I'm definitely not spending more than half an hour in the bathroom. You can apply hair masks as often as you like, be it every time after washing your hair, on alternate days (this is what I do), or at least once a week.
By the way, hair masks are basically a deeper, more moisturising conditioner which penetrates your hair better. And to tell you the truth, this is pretty much what you need for damaged hair. You can genuinely see and feel the difference once you rinse your hair after application. Just fyi, because some of my friends don't actually know what hair mask is.
Personally, I like my hair to be straight. Well, actually my whole family does. Which is why we own like 5 different straighteners; a steam one, a flat iron, an ion one, a ceramic type and also a mini one for travel. What I'm using more often recently would be the
Ion Shine Straight Styles
on from
Vidal Sassoon (VS2715)
. Mine is a particularly old model. Not sure if it's still available in stores. But you can definitely check out their other models which are just as good or maybe even better. The thing about ionic technology is that it targets the problem of static electricity in our hair which lead to frizzies and flyaways. These ions help add moisture to the hair and neutralized the bad ions causing the static. Translation, it helps condition the hair in a way that it can be easily styled and controlled yet leaving a healthy shine and softness. I particularly like this straightener because not only is it effective in keeping my hair straight but the head can also be changed to a concentrate hairdryer head or a curling rod head. This way, I don't have to keep switching from one tool to another. I can simply change the head. It's a money saver if you're thinking of getting a hairdryer, a curler and a straightener. Here's how it looks like.
Front of Vidal Sasson box
Back of box
Contents of the box
Concentrated Hairdryer Head
Straightener Ion Head
Once you're out of the shower, try not to towel dry your hair too much. The motion can be rough, breaking your hair leading to friziness and split ends. Instead, using a tooth comb, seperate your hair into approximately 4 sections. Then blow dry each section from top to bottom in a vertical down manner. It's also worth getting a blow out cream or oil which is applied to your damp hair before drying. This works well if you want to have a much straighter looking hair. You'll soon realise that your hair is much more flowy by blowing your hair straight down. When you head to salons, do observe the way the stylists blow dry your hair and try doing it yourself at home. So yeah, I sort of observed this hair drying method at my favourite hair place. Normally people think they're are done after a blowout. However, it is important to give your hair some treatment since it has been constantly exposed to the heat and is probably coarse and dry which may lead to frizzies later on. You don't want to end up with a bushy-over-blown hair now. A simple argan oil hair product or cream is a must to leave your hair soft and shiny, especially after using styling tools or if your hair is coloured like mine. I'm using Matrix Biolage serum which I purchased from the salon that I frequent itself.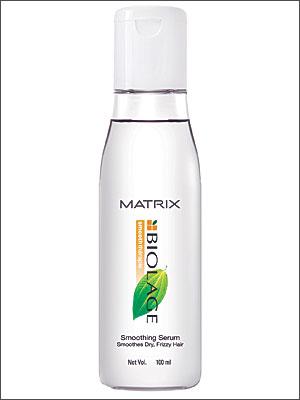 What I'm using.
Before
After
As you can see, before, my hair looks really coarse, damaged and dry. It's mainly because I dyed my hair recently and had my hair straightened which is really damaging. And after, my hair looks totally silky and flowy. I can run my fingers through my hair without getting caught in any tangles. So please do follow the proper hair care treatments and remember to pamper your hair at a professional salon at least twice a year, once every 6 months for smooth, manageable and healthy hair.
*Note: Images from various sources