If you know me really well, you would know that I am a mega fan of Korean boy group B1A4. I've been a BANA ( that's what their fans are called) for about 3-4 years now. Some people find it weird for me to be such a true fan of B1A4 and not the more established and world-class touring idol groups such as Big Bang and 2Ne1. Don't get me wrong, i do like the K-pop genre and do watch Music Bank when I have the time. However, I'm still more of a J-rock and English band type of person.
SCANDAL,SPYAIR, Abingdon Boys School, LINKIN PARK, SIMPLE PLAN, Daughtry
....Just to name a few of my favourites. So yeah, B1A4 is definitely something out of my usual genres of music.
I first got to know of the band when I happened to watch their music video - Baby, I'm Sorry; playing on KBS. B1A4 which actually means
Be the One, All for One
, is made of 5 country boys (not from Seoul). The name also represents the
blood
types of the members - Baro being the only type
B
blood while the other 4 were type A. They are still relatively fresh in the industry since debuting in 2011. Introduced through a webtoon, the members consist of main rapper Baro, visual Gongchan, main vocalist Sandeul, vocalist/rapper CNU and leader/composer of the group, Jinyoung. They also have different animal personas that I'm not really sure where this idea was stemmed from. (jinyoung - fox, cnu - bear, sandeul - duck, baro - squirrel and gongchan - dinosaur)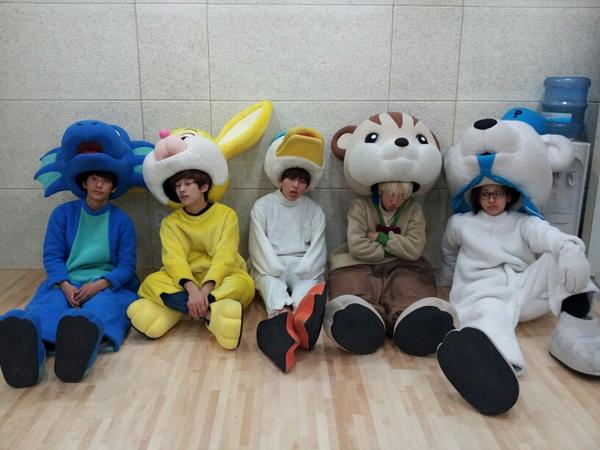 B1A4 in their respective animal costumes for a concert.
What I love most about these boys is that they're just so genuine. They're are true to themselves and keep it real. Their passion and happiness in what they do really shines true. Yes, I know that many groups are like that too but somehow, B1A4 really makes me smile- not in a fangirling way but more of a heartfelt respect kind of way. If you're a BANA early on like me, you'll notice that these boys have grown matured in terms of looks yet they are still so childlike on set. You should catch them on variety shows such as
Sesame Player
,
Hello Baby
as well as TV shows like
I Need a Fairy
(Highly Recommend) and
Replay 199
4. They are also very popular for their trademark beansprout dance on shows which is just ridiculously cute.
Up till now, they have released one studio albums, three EP's and a bunch of singles. They have definitely come far. They have won numerous awards and recently won their first music program award for 'What's Happening?' on Show! Music Core.
2011- LET'S FLY
2011 - IT B1A4
2012 - IGNITION
2012 - IN THE WIND
2013 - WHAT'S HAPPENING?
Music wise, I really love the originality and the songs are always so catchy. They've have ventured into many different genres such as upbeat songs like Baby Goodnight and What's happening & ballads like Only learned the bad things and Wonderful Tonight. They have also done mini collaborations with idols like Miss A's Min and Suzy, Brown Eyed Girls's JeA and more. Plus, many of their songs are composed by the talented leader Jinyoung along with CNU and Baro who writes his own raps. Some of their best compositions, to me, would be Feeling and What do you want to do. Here are some of my recommended songs.
The main reason why I'm even on the topic of B1A4 is mainly because of their comeback. That's right! They're back with their new album WHO AM I featuring their main single Lonely. When the MV was first released, I thought it was not bad but after listening a second time I got hook. I was excitedly waiting for the live performance at music shows like
KBS Music Bank
and
Show Champion
cause I was wondering how the dance would be like. When I watched the very first live on MB, i have to say, dancing with a scarf can be quite appealing. And finally they're back to matching suits. This album shows a different side of them; a more cool, indie, mellow yet mature kind of vibe instead of the usual happy-go-lucky, boys-next-door, upbeat kind of tune. Its definitely refreshing.
2014 - WHO AM I
If you haven't seen their video, do give it a chance and check it out. The behind the scenes of the MV is pretty entertaining too if you're BANA. I'll be nice and put it here so can see them if you want.
Click below for the English subtitled version:
[ENG SUB] B1A4 MV LONELY MAKING
by banasubbers
With their spectacular performance of Lonely, they were able to clinch top spot of the music program show
Music Bank
,
Show! Music Core
,
Show Champion
and
Inkigay
o. This was a huge surprise for many and happy blessing for all the fans. Despite all the rants about saying that other artists they were up against such as
TVXQ
or
Ailee
should have won, I believe B1A4 has come far, worked hard and earned that top spot in the charts. They definitely deserved it.
For more info on the group, do check out their
Official Youtube Channel
or like them on their
Official Facebook Page
. You can also visit their official site for more details.