I was browsing through some stuff from my Cleo magazine, which was a Christmas gift I got from Arun and I felt like doing a list of things I wanted or needed to get next year. Speaking of which, I had a great time on Tuesday; best Christmas eve ever. Not only did I win a pair of concert tickets to BABYMETAL courtesy of
teensmag
, I had a nice time at Louis's family bbq. Thanks so much for the invite, feeling so fat from all that yummy food. Anyway, as I was saying, that issue of Cleo magazine had like a catalog of things in it and somehow the list of things became longer in my head. I actually did up a list and well, here's my top 5 items on my little wishlist!
1. Skullcandy Lowrider Headphones
I'm currently looking for this design of Lowerider headphones.
I really super love Skullcandy headphones! Always have always will. I just love the spunky cool designs and the sound quality does not disappoint. My previous Skullcandy Uprock (White/Blue) recently had loose wire connection problems such that I can only hear the bass. Probably due to me tugging at the wires often. Currently, I'm using my old SONY dyanmic stereo headphones which has a great sound quality but there's no mic and the leather layer of the ear cups have been totally stripped off leaving only the cushion which gets itchy after awhile. Anyway, I took a liking to their Lowrider series and it meets all that I'm looking for in terms of design,features & specs.
This mic feature is perfect for me since I always listen to music on my phone so this will be easier for me to switch to calls when necessary. These are also fold-able making it convenient to carry around. I also had a feel of the headphones when I went to the MUSICA store at Westgate. Love it even more when I tried it on but I had no money for it then and it only cost
$29.90
! It's so much cheaper compared to my previous ones which were $60plus. I do wish they kept the old Lowrider series designs which had so much more colour and variety. I'm currently eyeing the black and gold one. But if I can't find it, I'll settle for the navy one which I have no problems finding.
2. Swatch Just Enjoy Watch
I fell in love with this watch the minute I saw it. Love the colour and artsy design. Just Enjoy is seriously the perfect name for it. However, the price is just as beautiful. Yeah, it costs a whopping $169. I don't wear watches often but my previous school watches were also from Swatch. I just love the colour scheme and designs from Swatch. Its pretty, bold yet minimalistic.
3. 2014 Typo Planner

I went to Typo recently and saw this really cute planner. It looks something like the above except its black and gold. It has little compartments on one side and a magnetic tab if I'm not wrong. The planner is divided into various sections too and a pen slot. The insides is very similar to the one above. It also includes a 'My Budget' section which is really what I need to plan my finances. This is definitely a must-have to kick start my 2014.
4. Converse All Stars Skulls Shoes
I was too lazy to crop this screenshot.
I first stumbled upon these lovely shoes when
Ashley Gosiengfiao
posted a picture of her own pair on FB. I seriously want these shoes!!! Even though I need a pair of running shoes more but these are just so awesome. Just super in love with the skulls and the detailing on the shoes. Shall stop by a Converse store soon to check out and maybe try on these pretty kicks.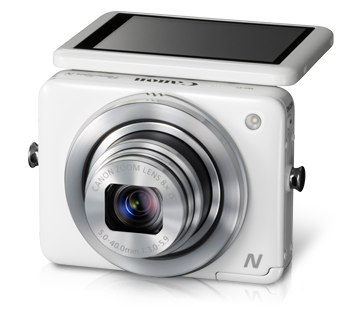 I've been in super need of a good simple camera. I stumbled on the Canon PowerShot N and thought it was the cutest thing ever. First of, it's small and compact that it's slightly smaller than my Note 2 and can fit in one hand. Plus, it has a built in WiFi which makes sharing of photos on social networking sites so much easier. The touchscreen can also be flipped so as to take photos at better angles. This is really convenient, allowing to take better quality pictures when I attend events or travel. Instead, of using my phone which looks so unprofessional. And the carrying case is just so pretty. Now I can snap photos with some style. At $399, it's reasonable enough.
Well, that sums up my top 5. If I were to list everything, it'll take forever. Afterall, we humans have unlimited wants but limited resources. Everytime, I walk past a mall or a shop, I often have this urge of buying something. Sometimes, I end up pondering over it at home and eventually, head back to the shop to buy it after desperately looking through my savings.
I'm sure everyone has had this moment at least once in their life.
In other news, my birthday is coming! *ahem -
10 JANUARY
- *ahem. Can't believe I'm turning 20 already. I wanna be 19 forever and ever. This year has definitely been the best year of my life so far! (minus A levels results day of course) So if anyone out there would love to get me something from this list, I would be eternally grateful. Yes, I'm shamelessly hinting to my family and friends here. haha. Well, anything is fine really. I will definitely accept it and thank you kindly for the gift.
What I've been doing to everyone recently especially my mum.
But if it's something useless and takes up space like a plushie or something you should never get a friend like a piggybank or a tissue box, I will- no, I
PROMISE
I will throw it away or dump it under my bed or in the storeroom, never to be seen again. Sure, you'll probably say, "
It's the thought that counts right?
". So let me tell you the truth about this statement. It's only ever used when someone gets you a gift, just for the sake of giving one and actually
DOESN'T
put much thought into it. This is just a polite way of saying "
I don't really like your gift but I'll just give you the benefit of doubt that you just simply suck at gifts and kindly accept it since you already spent money on it
." Okay, maybe I exaggerated a little but you get the point. I too had my fair share of terrible gifts but of course, another statement comes in mind, "
It's better than nothing
".
Truth is, if you don't know what to get as a present, a simple treat or day out is enough to make someone smile because I mean, who doesn't love free food or a free movie? haha. Personally, I feel free food & a day out beats a present anytime. Of course, if you have both, that's even better! Last year was a bit of a disappointing birthday for me because I actually planned my own birthday outing which is so dumb. And some even said that it was just sad. This time, I'm not gonna do anything. I just want a nice meal and a simple day out like ice-skating or shopping.
Back to computing coursework now. Ja-ne!