The event guide has been released.
Finally, the official AFA13 event and stage schedule plus the exhibition floor plan had been released. Now, I can start planning on what I should do first, where do I go for certain items and when I should head to the stage to watch performances. I'm low on cash so I'm getting stage access tickets for Sun only. I'm may be going on Sat and Sun, 9 & 10 November but I'll be buying tickets on Friday. Because, I unfortunately have lessons and have to attend the new SKECHERS store opening at Bugis. Speaking of which, I'm really grateful for the invite. Can't believe I'll be able to meet awesome bloggers, Rachell Tan and Typical Ben. Anyway, I'm hoping to try and sneak a peek at the AFA event grounds on Friday while I'm there.
WHAT
Anime Festival Asia 2013
The region's biggest festival for Japanese Popular Culture
WHEN
8, 9, 10 November 2013
(Friday ~ Sunday)
Fri: 10am - 9pm
Sat & Sun: 9am - 9pm
WHERE
Suntec Convention & Exhibition Centre, Singapore
EXPERIENCE ZONES
//I ♥ ANI-SONG
The I ♥ ANI-SONG Concert is one of the main highlights of the annual festival. Featuring artistes that have contributed to the anime industry in terms of opening, ending sounds and OST. The highly anticipated performances for me will be on Sun, VALRAVE NIGHT, as it's really rare for legendary artistes such as T.M.Revolution and Nana Mizuki to be performing in Singapore. My personal favourites also include the rising voice - EGOIST, DGM'S LiSA and the ever popular May'n.
This time round there will also be a mini-stage where guests who do not purchase the stage access tickets can catch a glimpse of the star cosplayers like YingTze, Angie, Clive and Reika. The super cool band, BABYMETAL, will be having a live showcase as well, in promotion of their concert in Singapore. How awesome is that!
//AFA CAFE
Another zone I'm looking forward too is the cafe. This year, it will be a combined cafe instead of the usually separated themed butler and maid cafe. This year, the very well-loved duo of Miyake and Yutaki will be back at the cafe. The two are part of the pioneer batch of butlers and maids. Apparently, this year cafe aims to feature butlers and maids from each generation. New faces are also added this year - Kaede, Kyoichi, Rin and Rie. The handsome butlers will be having a black suit theme while the moe maids will be going with a french maid theme. Star cosplayer, YingTze will also be returning to her roots as meido, Mio, at the AFA Cafe this year.
I usually go for the butler cafe, but I did went for Funan Anime Matsuri this year and had a chance of meeting some of the maids as well. I'm looking forward to meeting my favourite butlers again mainly Takuya, Hiroshi and Haru and the kawaii meidos, Tora, Shizuka and Rina.
I remember feeling nervous and awkward during my first experience in the cafe but I left feeling blessed after chatting with them. It was really fun! This is definite must-experience-at-least-once kind of activity for everyone!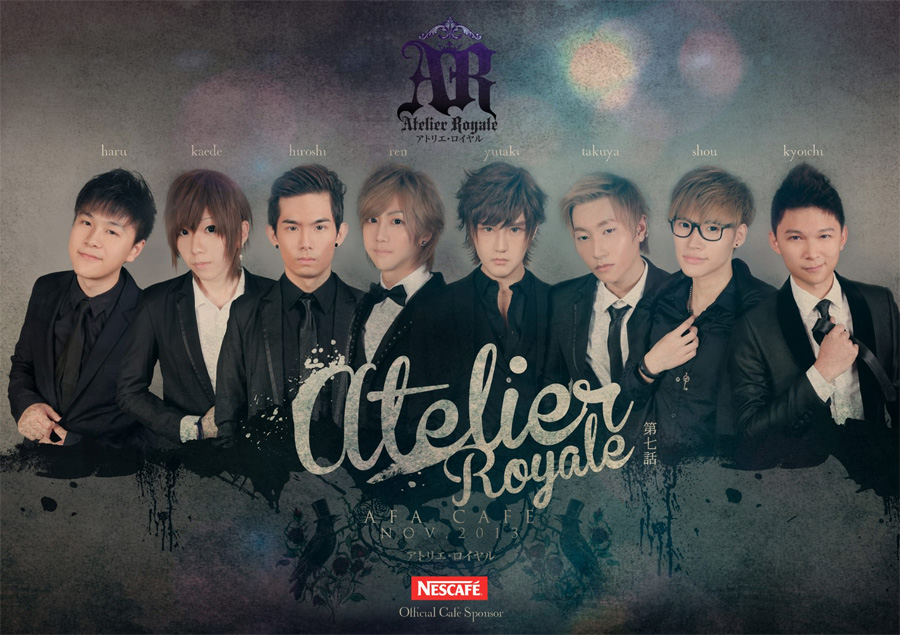 ANIME SCREENING
As always, there will be a screening of recently released and upcoming animes. Some of the featured anime will be the current hit series, Attack on the Titan and the well-received Sword Art Online. Directors, producers, seiyuus and other special guests will be sharing behind the scenes look into the anime.
Personally, I'm really looking forward to the WORLD PREMIERE screening of the anime, Noragami. I loved the manga (although it's on hiatus now) and was so ecstatic to hear that its being produced into an anime. Another series I'm interested in would be Psycho-Pass. I can't really explain it but I have a feeling it's gonna be good. I'm also currently following one of the brand new tittles, Coppelion and I'm liking it so far. Anyway, don't miss the opportunity to learn more about these animes and meet-and-greet your favourite seiyuus as well.
Noragami, Psycho-Pass, Coppelion
SHOPPING
I don't know about you guys, but one of the reasons I try to attend AFA every year is for the shopping. Its hard to find anime & j-culture related items in Singapore and shops that do sell are slightly pricey. AKIBA TOWN is hosting a large variety of booths featuring some of Japan's top brands such as BANDAI and Bushiroad at the exhibition area. There are also Creater Hub's booths which sell fan-made merchandise like posters and doujins. This is probably one of the rare times where a whole collection of Japanese Pop Culture goods are on sale; from key-chains, figurines and even cosplay items. I'll be hunting for a nodachi and other cosplay items of course!
Do look out for music albums and purchase goodies in sets to redeem items. With any purchase at selected booths, you may get a chance to meet the celebrity guest for an autograph signing too. I'll be buying my SCANDAL album there too!
FASHION SHOW
A relatively new segment this year, would be the "Marble Wonderland by ASIA KAWAII WAY". This is basically a entertainment showcase of Japanese girls' culture in terms of beauty, fashion, cosplay, dance, idol, etc. It is also a way of portraying the unique culture of Japan like that in Harajuku. For me, I'll be looking out for the fashion show which features some of the most popular models/icons/ambassadors of Japan new culture such as 217, Akiko Ishikawa, Misako Aoki and famous cosplayer, Alodia. But take note that this will be held on the 2nd day of the festival, 9 November only.
COSPLAY COMPETITION
Last but not least, probably one of the most highly anticipated event of every AFA, would be none other than the AFA Regional Cosplay Championship (ARGCC). I remember watching Alodia and her sister Ashley during the competition a few years back, as contestants. They were amazing in their Witch Blade cosplay and it was no surprise that they won. I think it was then that they became really popular. Anyway, this is the biggest competition in the region as cosplayers from different countries come together to perform and ultimately compete in this prestigious competition.
As an ambassador of AFA, KANAME☆ will be one of the guest judge as usual, alongside fellow celebrity cosplayer Reika I presume. With Danny Choo, Ferlynn Yoshimi and Reiko hosting this year AFA, I definitely can't wait for the stage activities. Oh, of course, the competition will be held on the last day only.
KANAME

☆
REIKA
With so many activities, events, celebrity guests and a great music line-up, AFA13 is a festival that could not, will not and should not be missed. OMG, I'M SO EXCITED. The countdown officially begins; 3 DAYS LEFT TO AFA13!
For more details on AFA13, visit the official site:
ANIME FESTIVAL ASIA 2013
Note: Images do not belong to me and are taken from the AFA website.